Details
mē is an innovative device that can be used in the comfort and privacy of your own home or while you are travelling to treat unwanted hair. mē is the only at-home permanent hair removal device to use patented elōs technology and is clinically proven to be safe and effective for all skin tones . Gentle, easy to use and just minutes after a treatment, you can enjoy a silky, smooth skin without the hassles of shaving and waxing.
This amazing device comes with an amazing 150,000 pulses quartz lamp and a FREE Precision Adapter!
There is no device with so many pulses on the market! you will be able to use the me for about 30 full body treatments!!
(it takes about 6-10 treatments to permanently reduce hair growth by 89%)

Elos (Electro-Optical Synergy) is a Syneron development that is clinically proven, an outstanding technology- a patented technology that combines two types of energy- Intense Pulsed Light (IPL) and Radio Frequency (RF) to remove hair through selectively targeting the hair follicle in a safe yet effective manner.
How does it work?
When an elos pulse is emitted from the device the energy is deposited on the skin, selectively targeting the hair follicle. Once the energy reaching the follicle,. Elos provides greater levels of efficacy, superior levels of safety and user comfort – no pain, at most slight warmness or tingle - as well as far shorter treatment times versus intense pulsed light and laser.
Elōs technology selectively delivers heat from IPL and RF energy to the hair follicle affecting the source of where your hair grows. It permanently damages the hair follicle and that specific follicle that was damaged will not be able to grow hair any more. Once the hair follicle is destroyed, it reduces the amount of hair you're left with in the treated area.
elōs technology can be used safely and effectively on all skin tones including naturally dark skin and all hair colors.

You will need to treat the areas of unwanted hair multiple times in order to target hair in the active cycle. After a hair follicle is treated, it can take one to two weeks for the hair to fall out.
For best results, use mē on the same body area (according to the duration specified for each body area) once a week for the first 7 times. Performing additional maintenance treatments, after the first 7 treatments, use it as hair appears.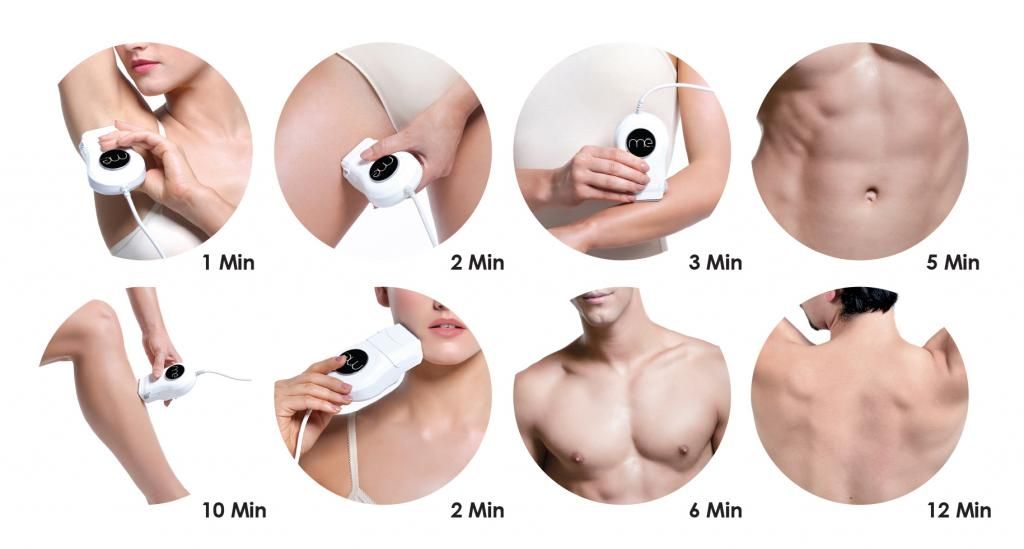 After treatment gently rinse your skin with lukewarm water and dry.
You can apply your favorite lotion, be sure to carefully protect the treated skin with sunscreen throughout the hair removal period.
The New 2014 Box includes:
Me My Elos Touch Device with a built in 150,000 cartridge quartz lamp

Precision Adapter

Goggles

User guide + User guide DVD

2 year warranty

110-240V Voltage 50-60Hz

EU/US Outlet
An outstanding amount of pulses that will last for many (about 25-30) total body treatments!!!
Customer Reviews
Words can't say Review by

Liv

I can't say enough about this product. I have been using it for a month and I am completely impressed with how well this has worked. (Posted on 10/3/2017)
UpSell Products
Regular Price: $129.00

Special Price $108.00

Regular Price: $129.00

Special Price $108.00